Brussels, October 3, 2015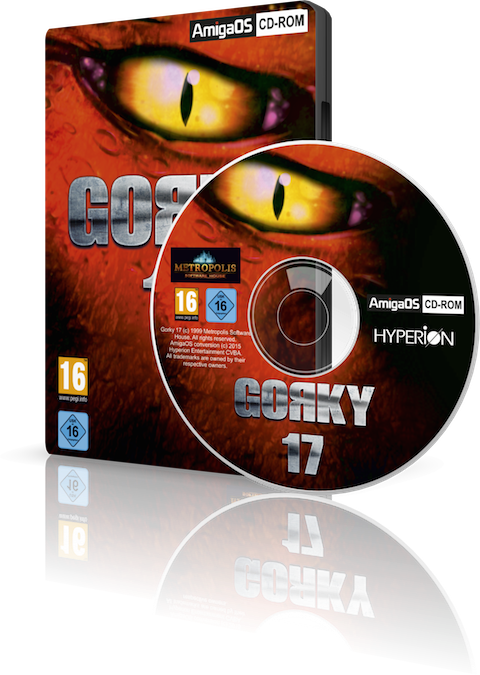 Hyperion Entertainment is very pleased to announce the imminent release of the long awaited adventure/strategy/RPG crossover game Gorky 17 originally by Metropolis Software House for AmigaOS! After changeful 12 years since its original announcement, the AmigaOS port of Gorky 17 became almost what was Duke Nukem Forever for the PC world. Yet, we made it in two years less ;)
In order to ensure the highest possible quality, Hyperion Entertainment commissioned Frank Menzel and Thomas Claus, who are well known for their original games for AmigaOS 4 under the Entwickler-X label, to stabilize, optimize, enhance and last not least to finalize the AmigaOS port of Gorky 17. The result of their work speaks for itself and shows their high level of professionalism, which allows us now to rightfully claim that the AmigaOS port of Gorky 17 represents the best version of Gorky 17 released on either platform ever!
UPDATE: Gorky 17 is now released and available at your dealer. Read here what Amiga blogger Epsilon has to say about it.
Exclusive main features of the AmigaOS version:
High resolution support by free choice of screenmode
English, German, Spanish (text & speech) and French (text only)
Mouse wheel support
Highly optimized game engine and video player
Minimum requirements:
Amiga with 500MHz CPU or faster
256MB of memory
Graphics card (Warp3D compatibility recommended!)
700MB of free disk space
AmigaOS 4.1 Final Edition
Production is already in progress, all registered dealers got informed about the now available pre-orders and the official start of sales in calendar week 43, 2015. Get in touch with your preferred dealer to place your personal pre-order!
But there is more to it! In cooporation with 
Alinea Computer
 Hyperion Entertainment will celebrate 30 years of AmigaOS and the release of Gorky 17 by making Gorky 17's pre-release debut at the 
Amiga 30 years event
 in
Neuss, Germany on October 10, 2015
in form of a strictly limited amount of early bird units sold
separately for 34,95 Euro SRP
 as well as part of a special fair-super-bundle consisting of
Gorky 17 for AmigaOS
Gorky 17 poster
"powered by AmigaOS" t-shirt
"30th anniversary" sticker
"AmigaOS" notepad
at a heavily discounted fair-price of 50,- Euro incl. VAT*) in contrary to the regular price of about 65,- Euro incl. VAT.
We all hope you enjoy this fantastic news as much as we do and will stop by at our booths in Neuss on October 10... cheers!
*) German VAT currently 19%. Offer only valid directly at the fair, for the duration of the fair and as long as supply lasts. Subject to errors.