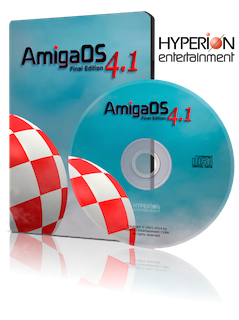 Since the initial release of AmigaOS 4.1 more than six years ago, functionality and user experience have been steadily improved by six free major updates and over 88 free smaller ones through AmiUpdate. AmigaOS 4.1 Final Edition defines the new baseline by consolidating all previous updates, bringing new long awaited features and stability improvements and last but not least enabling the user to make a clean installation in one go.
AmigaOS 4.1 was released in September of 2008 and has seen no less than 6 free major updates and at least 88 smaller updates released through AmiUpdate.
New functionality in AmigaOS 4.1 Final Edition includes but is not limited to:
Extended memory functionality (beneficial to all supported platforms even those platforms which cannot be equipped with more than 2GB)
Most powerful console for AmigaOS
New Intuition features
New Workbench features
Much improved DOS
New unified graphics library with RTG support which allows for (current and future) very substantial general and platform specic performance optimizations e.g. through the use of on-chip DMA engines (present on recently released hardware going back to the Sam440)
Updated Python port
Installation graphics, new icons and back-drops by Martin Merz
Countless minor updates, increased functionality and bugfixes
AmigaOS 4.1 Final Edition requires NO previous version of AmigaOS 4 and is a stand-alone product, quite possibly the most afordable version of AmigaOS ever to be released.
This now allows current users of AmigaOS 4.1 to install a complete original version of AmigaOS 4.1 without subsequently needing to download or apply 6 updates and countless minor updates.
Users are nevertheless recommended to register their copy of AmigaOS 4.1 Final Edition on the Hyperion Entertainment website as this will be required for downloading possible future updates and bugfixes.
Note: Please note that emulations like WinUAE or FS-UAE are not officially supported platforms for AmigaOS 4.1 Final Edition for Classic.
System Requirements:
Amiga 1200/3000/4000 with PowerPC accelerator
128MB of RAM
700MB of free hard disk space
Graphics card recommended
Digital download purchases are handled by avangate as our fulfillment partner