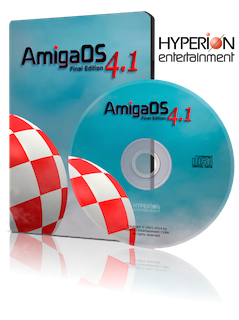 Brussels, December 23rd, 2020
Hyperion Entertainment is proud to announce the immediate release of update 2 for AmigaOS 4.1 Final Edition. Update 2 is by far the largest update ever released for AmigaOS and includes more than 200 updated components with hundreds of bug fixes, improvements and new features and six completely new OS components. The update is the combined effort of four years of AmigaOS development and will bring AmigaOS4.1 Final Edition to a completely new level of stability and usability.
The complete list of updated, improved and new components can be found in the changelog that also contains a list of the major bugs and issues that has been resolved. Some of the highlights of update 2 are.
New kernel (exec) version 54.28 with many bug-fixes and stability improvements
Improvements and bug-fixes in the graphics.library, workbench.library, dos.library, application.library, elf.library and many other essential libraries making them more robust, bug-free and future proof
Bug-fixes and improvements to the USB-stack
Many bug-fixes and improvements to console.device, ram-handler, appdir-handler and env-handler
Many bug-fixes in all reaction classes, datatypes and device drivers
New OS-components such as the append dos command, an OS4.1 version of DiskDoctor from Olaf Barthel, SataControl, appdir-handler, ssh2-handler
Many, many more bug-fixes, improvements and new features
Update 2 is free to registered users of AmigaOS 4.1 Final Edition and can be found in the download area at https://www.hyperion-entertainment.com/.
This update is the result of the continuing effort of a dedicated group of AmigaOS 4.1 Final Edition developers and beta-testers. Thank you!
AmigaOS 4.1 Final Edition update 2 prerequisites
We strongly recommend that you install update 2 on top of a fresh install of AmigaOS 4.1 Final Edition update 1. If you decide to update your existing installation you should back it up beforehand!
Operating System: Installed AmigaOS 4.1 Final Edition Update 1 Hardware
Compatibility: AmigaOne XE & SE, MicroA1, AmigaOne 500, AmigaOne X1000, AmigaOne X5000, Sam440, Sam460, Pegasos 2, Amiga Classic PPC.